ATD Design: Love + Sunshine Curated Travel
Last week I shared a bit about something I've been, ahem, growing besides the baby. (And with that sentence, I've reached my limit on calling things "my baby" that are not, in fact, my baby.)
Judi was my neighbor freshman year at Belmont University (5th floor Wright Hall, to be exact). We became quick friends and I annoyingly singing out, "Hey Juuuuude!" more often than I care to admit. I like to run bad jokes TO THE GROUND.
In the erm, 10 years-ish, since our graduation, Judi moved with her husband to Atlanta and has become the astounding mom to 3 boys (and one dog). It's been so fun to reconnect and get advice on boys...kinda just like college! (Is that a weird thing to say...) Judi is one of the most blatantly happy people I know and over the years she's developed a passion for travel and helping people get where they're going with fun and ease.
She asked me to help put together a brand design + website for her new venture, Love + Sunshine Travel, and it was exactly the type of project I was eager to get my hands on!
We're both really happy with the final brand guide, and here's a little peek at how it all came together!
1. Inspiration Board
Judi initially got to work by sending over a Pinterest board filled with colors and visual ideas as to where she imagined her brand. Above all, Love + Sunshine is about being helpful and fun, which I translated to bright, colorful images that would immediately put you at ease.
2. Logo Concepts
Inspiration board in hand, we moved on to logo concepts. Love + Sunshine clearly has its own visual aspects included in the name, so it was my goal to create something immediately recognizable with a nod to the name, itself.
#1 I loved the idea of the heart hiding in the clouds with the sunsetting in the back. I probably worked on this one the most, but the trouble was keeping the design scalable so that it wouldn't get lost as the logo got smaller. Judi really loved the ombre sunset effect of these colors.
#2 A rough concept for a more tranquil logo. Cool in theory, but it didn't quite capture the fun aspect of the brand.
#3 This one was mostly to bring forth some texture in the mark and try out a more feminine font. Judi was drawn to the watercolor design here.
#4 The most modern option, by far. It was a little outside where we were headed, but a nice option for something a little different.
Judi really loved the mark of #3 and the sunset effect of #1. We were going back and forth between these two logo concepts, and then Judi brought up incorporating watercolor...so I got to painting!
Here is our final logo! The colors became more saturated, mostly because watercolor can be tricky when you're using yellows. Above all, I wanted that heart to pop!
3. Brand Style Guide
Judi loved it so I created a brand guide that was a bit punchier than our initial inspiration board, but still kept the same idea of a bright, fun brand:
4. All the Goodies
Before we got started, Judi and I discussed the extra elements that would help her business. Together, we decided on business cards, thank you cards, social media collateral, and an email signature:
Seeing these 4 elements come together got me SO EXCITED to get to work on the final step...
5. Website Design
Judi wanted a site that was simple to navigate, streamlined the process of connecting with clients, and represented her own heart. I'm absolutely thrilled with the result and you can see the full thing here!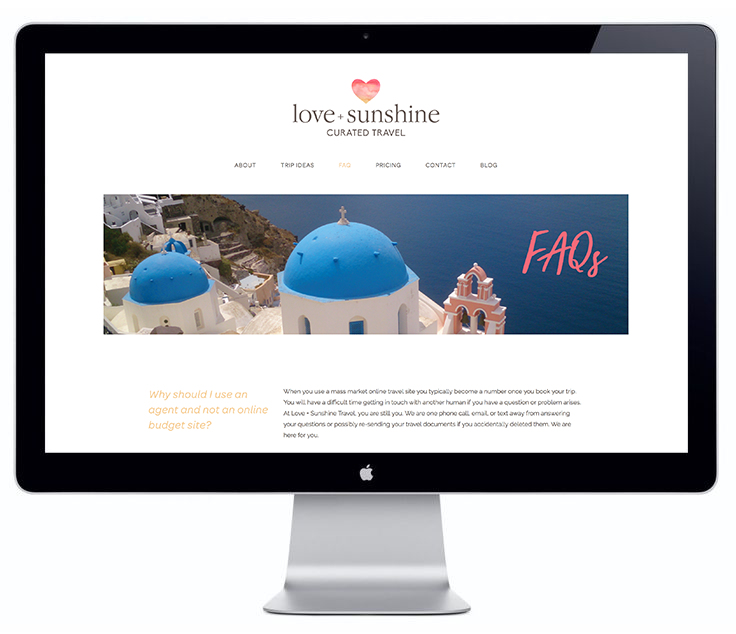 Anyone else wish they were on a beach right about now?! (Pst: I know someone who can help you with that...)
I'm thankful to Judi for taking a chance on me and really pleased with the results! It's my goal to take on a new brand + web design project every 4-6 weeks and I'm pretty excited to jump into my next one which, coincidentally, also pairs me with an old 5th floor Wright neighbor!
I'd love to hear your thoughts on Love + Sunshine, so let me know what you think!